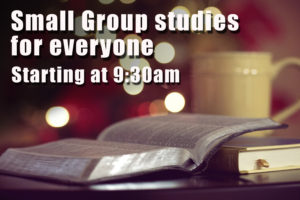 Start your Sunday morning at 9:30 (or whenever your can get here) with New Friends, Hot Coffee and Hotter Topics
Bethany visitors and members have choices from fun "get together" classes to meet new friends and share our week to in-depth studies of Biblical truths.
FOR LITTLE ONES
Our Nursery – Each Sunday vetted, experienced nursery workers provide a trusted, beautiful, bright place for our youngest to thrive.
Kids 3 and under can enjoy our nursery during the Worship Service if parents prefer. Children are always welcomed to join their parents in Worship.
FOR EVERYONE
"A Great Place to Start"
The awesome husband wife team of Scott and Steffy Clingan launch New Beginnings each Sunday with a cadre of visitors and members as they explore fresh insights into God's Word and how to turn what they read into positive help and action.  This interactive experience allows everyone from new beginners to seasoned young veterans to grow in relationship to their world, their friends, their personal ministry, and their Lord.
If you would like to experience what Sunday School was like in a simpler time, you must visit the PA Class – Prisca and Aquila Class.  This class, formed shortly after World War II by a group of fun-loving young marrieds who wanted to understand God's plan for their lives through His Word, is Bethany's oldest continuing class.
Each Sunday the gifted pianist Bob Crouch underscores the uptempo sing-along of 1950's American Gospel favorites.  Ken Bailey follows with short relevant lecture studies from a "quarterly' study guide that ends with prayer, more coffee and a bathroom break before Worship.
The popular Unity Class is filled with independent thinkers who love to discuss important books and topics relating to life journeys. However, you will immediately find that laughter, love, deep thoughts, and deeper friendships unify this weekly get together.
Visitors and members of the Seekers Class focus their Sunday mornings on in-depth studies of Holy Scriptures and the history and truth within them. Ancient maps, text of the ages, cultures and political influences of the environments in which these words were uttered, spark opinions and discussions that make the words come to life in very personal ways. Mike Nijarian is the Biblical guide that helps the Seekers seek Truth.
WORSHIP SERVICE
Our 10:50am Worship Service style has been called traditional but…
Each week our large sanctuary choir and impressive organ under the gifted direction of Thomas J. Crow celebrate the sacred music of the ages.
Communion is such an important part of our tradition as a church, the chalice with a cross together form the symbol of the Christian Church (Disciples of Christ).
Communion at Bethany is an opportunity for all believers to participate in the worship and celebration of our Lord. When you visit please feel free to take of the elements of bread and wine as we clear our hearts and minds together and accept the Grace and Love of God through Jesus and His sacrifice for us.
DISCLAIMER: Okay, like many churches we have a lot of standing up and sitting down at different intervals throughout the service. Please relax, your folded bulletin you are handed when you arrive at the sanctuary tells you when but our wonderful leaders and members will also help guide you. Just come and enjoy and remember how much your visit means to us.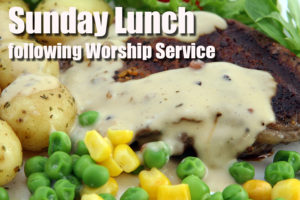 "There's no such thing as a Free Lunch, wait, what?"
Actually there is. Another of our favorite traditions at Bethany is sitting with visitors and members at lunch in our gym after every Sunday morning Worship Service. Members bring (and we have some great cooks) vegetables and desserts and the church provides a couple of scrumptious entrees from which to choose. This feast is supported by small donations from our members but..here's the good part.. first time members are asked NOT to help but to allow us to treat you.
With all the noise and angst waiting outside for us to return to the world, the joyous laughter and conversation with new and old friends can be as welcomed as you are.
See you Sunday.